VAM security



The VAM vehicle security system works like an antivirus. When its installed, no intruder can threaten your vehicle. No matter how sophisticated the thieves strategy is, the VAM system provides 100% anti-theft security for your car.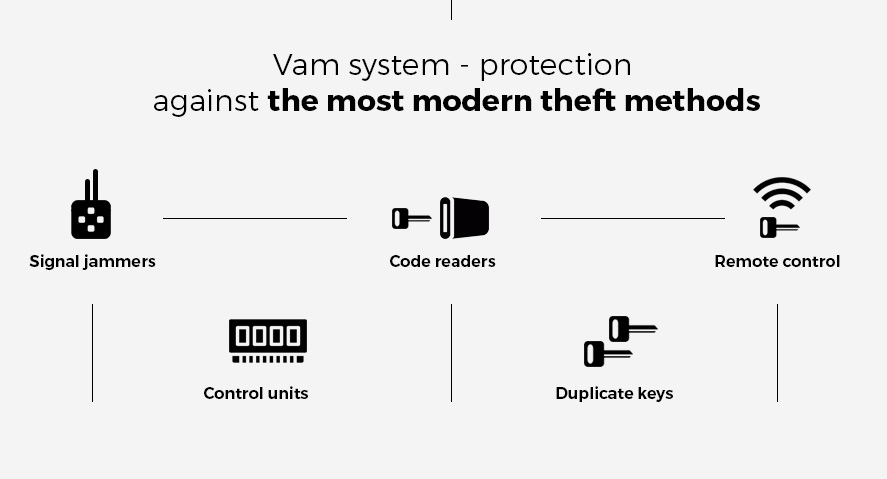 VAM security works like an immobilizer
When the security is activated, the VAM system blocks the transmission, gear stick and switch cabinet. Its even resistant to the exchange of switch cabinets and control units. Neither a copy of the key, nor the original key is sufficient to steel the vehicle.




Activation the vecicle security


The VAM system consists of two parts: one is removable (cassette), and the other is built in the mobile part of the vehicle. When you get into your car, you insert the removable part into a built-in part and you can go. Until the cassette is in the fixed part, the car wont even start with the original key. If someone steals your key, you can be sure that they wont be able to drive away with your vehicle.




The VAM system is resistant

The removable part is shock and moisture resistant. If it happens to fall into a puddle, all you need to do is clean it and dry it and keep going. If you lose it, we will be happy to recode your car and supply a new set of cassettes.




VAM system works like a car alarm

The VAM immobilizer is based on an electro-mechanical principle. It differs from most car alarms and vehicle security devices, which are only based on either an electronic or mechanical principle. The combination of both principles makes the VAM system an unsurpassable immobilizer.





Expansion of the VAM R1

The VAM R1 car security can be expanded with the following modules: VAM R1 system



VAM towing


It includes: protection against loading, hauling, pushing, lifting, tilting the vehicle, wheel theft and protection of the engine compartment.

VAM acoustic


It includes: protection against loading, hauling, pushing, lifting, tilting the vehicle, wheel theft, and protection of the interior of the vehicle, trunk and engine compartment.

All VAM systems are certified by the Czech Ministry of Transport (certificate of roadworthiness no. 3 488). We hold the TÜV SÜD Germany quality certificate.


Warranty conditions

The warranty period for the mechanical parts of the VAM system is 2 years. A lifetime warranty is provided for the other parts of the system. The installation of our security system has no negative affect on the vehicles warranty. Our company strictly follows conditions relating to the provision of warranties in consumer contracts, which are governed by § 619 et seq. Act no. 40/1964 Coll., Civil Code, as amended, i.e. we provide a warranty for all the parts of the vehicle affected by our system. We only intervene in certain parts of the electrical wiring, never directly the control units, mobile parts or the deformation zones of the vehicle.